The Manic World Tour
NB: This post is probably more for me than it is for you but it was a really significant experience so I wanted to record it. I hope you read it (or some of it – I know it's very long) and I hope you like what you read. I promise there's mental health and Autism content coming.
Last week, I was lucky enough to see Halsey not once but twice. I booked a ticket for London and then, as a very late celebration for my 25th birthday (as I explained in this post), me and my Mum decided to take a little trip to Dublin to see her again for a second date. She's an incredible performer and her shows are amazing and as I've said in previous posts: "I often get overwhelmed mid show and so seeing [a show] multiple times allows me to get the full experience – and why would you not want to see a show you love more than once [if you can afford to], especially if it's only on for a limited time?" Plus, she's recently said that she's not going to tour for an indefinite period of time so suddenly, seeing her that extra time became extra important.
The first show was in London at The O2. I couldn't get a disability ticket so I had to get a regular ticket and because everyone was standing up to dance and jump, I had to stand up to see, which was not good for my fatigue and pain. I'm still not used to 'being disabled' and so I'm still 'toughing it out' and usually regretting it later. I leaned against my chair but it didn't help much. I wish I could be in the standing section and stand at the front, hold her hand when she comes down to the  crowd, but just looking at all of those people packed together made my throat and chest tighten with anxiety.
We were on the side so the screens were difficult to see, blocked by the lighting rig and whatever else they have up there, which I was a bit disappointed by because Halsey always has such beautiful images on the screens behind her. I could still see them but I just couldn't take any photos, which I love doing so that I remember all the details.
I wanted to list some of the moments I want to hold onto:
The first song was 'Nightmare' and everyone shouted the lyrics, 'I'm tired and angry but somebody should be,' which felt pretty appropriate for International Women's Day. The shouting filled the arena and it was kind of amazing.
She had the blue black eye, like she has on the album cover. She's done several variations over the tour so I was intrigued to see which one she'd do for the shows I was going to.
She has everyone jump during the choruses of 'Castle' (another song I think is particularly relevant to IWD, since it includes lyrics like, 'There's an old man sitting on the throne that's saying I should probably keep my pretty mouth shut,') and she usually stops the track at the end of the first chorus to tell the crowd that they can do better but this time, she said it was, "the best of the whole fucking tour."
Everyone sang along so loudly to 'You Should Be Sad.'
She finally paused to speak to the crowd and everyone was really ready: "I've been looking forward to playing this show for a very long time. I mean, I've been looking forward to playing this show since the first time that I ever played a show in London. And as luck would have it, I somehow ended up here on International Women's Day. And I don't know what's gotten into me but it's like all that rage and that excitement and that ambition and that fire… I'm feeling electric tonight, I gotta be honest with you guys. If you are a woman, young or old, in this crowd tonight, I'm looking at you. I'm looking at you for that sheer unbridled lightning energy that's gonna get me through this fucking show. And I know you're capable of it because I've met women from London." That caused a lot of cheering. "I wrote a song about one. She had quite the attitude. But we'll get back to that in a little bit. There's a lot we're gonna do tonight. We're gonna laugh, we're gonna cry, we're gonna get angry, we're gonna get happy, we're gonna get to know each other a little bit, alright? So I guess now feels like the right time to formally welcome you to The Manic World Tour!"
The set for 'Haunting' (I did not expect her to play that one) was incredible. It looked like some kind of diner with fluorescent lit windows and someone could be seen walking back and forth through them. It was very eerie.
The platforms (that also tipped so that they could be stairs) were so cool and a really unique piece for a concert. I've never seen a set like it.
The colours on screen for 'Forever … (is a long time)' were so beautiful and there was also all of this brain imagery, like something from medical scans, and they were oddly beautiful. But I couldn't take any pictures or videos of it because of the stage structures in the way.
Her vocals were even more incredible than the last time I saw her and I noticed it especially at the end of 'Colors' and in 'Bad At Love.'
"Wow. I can't believe I'm performing here right now. It's so funny… I keep forgetting… I forget, like, every fifteen seconds and then I look up and I look up some more and I look up some more and then I look up some more and I'm like, 'Oh, shit. That is a lot of people.'" She talked a bit about why she's decided not to tour for a while: "I announced pretty recently that I was going to be taking a break from touring after this tour. And that might seem pretty strange because I look like I'm having fun up here, right? Right?! Well, that's because I am. 'Cause my favourite place in the world is being on stage. The thing is I pride myself on being able to make mistakes and then write about them so that you don't have to make 'em: you can just learn the lesson through listening to the song. I know. It's a hard job. You guys have watched me make a lot of mistakes. You've watched me date a lot of people. In fact, you guys have watched me go on so many dates, you've watched me go on dates I don't even remember going on. But I read the articles about them and think, 'Oh, that must be nice. Maybe I'll go on a real date with them.' You guys have watched me say the wrong thing at the wrong time, make friends with the wrong people, be in the wrong place… You have watched me do all of it. And I write songs about it so that you can learn from those things but I started noticing something. I started noticing that you guys are growing up right in front of my eyes. All these familiar faces I talk about, that I see on Twitter, on Instagram, on Tumblr, in the crowds… Some of you guys, I met you or I saw you or I liked your tweet from the first time when you were sixteen years old and now you're twenty two. I have watched so many of you getting married, go to university, get your braces off… and I started realising that I can't do my job anymore because you guys are growing up faster than I am. So I can't write those songs for you anymore to help you out in your times of need so I decided that it's my turn to do some growing up so that I can write you better music when I come back. Because truth be told, as much as fun as I've had watching you guys grow up, I wanna grow up with you."
She joined her band, playing '3am' on the electric guitar, and the crowd sang along so loudly. It's such a catchy song.
She had everyone hold up their phone lights during 'Finally // beautiful stranger,' which is always one of my favourite moments in a show. I always wonder what it would be like to see an arena of people do that for me (I've had a room-ful and that was pretty fucking special so an arena must be amazing). And there were these beautiful, moving colours on the screen behind her, like the northern lights. I loved it and I'm really sad I couldn't take photos of it.
She introduced her band and asked them what they were going to do on the break from touring and it was nice to see the relationships between them.
She performed an acoustic, gentle version of '100 Letters' compared to the version that was full of power and self empowerment on the hopeless fountain kingdom Tour. Not that this version wasn't empowering, just in a different way. The song itself is empowering but this performance was softer and more delicate, letting the lyrics speak for themselves.
She performed 'Is There Somewhere' next, which is one of my favourite songs of hers. She said that it was the first song she released and it became a fan favourite so she promised to sing it on every tour. She climbed down into the crowd as she always does, which makes the fans at the front so happy (I just wish she'd move around a bit so that the same fans don't get that same opportunity over and over because they know where she's going to be; that  way other fans could have that opportunity). And she herself also looked so happy, which made me really happy. I just wish I could be down there.
She does these crazy mic flips and I'm always worried she'll drop it or it'll go flying across the stage. It looks freaking cool though.
She had these beautiful starry backgrounds, like a night sky, for Graveyard that morphed into flowers that then caught fire after the bridge along with flames and sparks on stage. Aesthetically, I think it was my favourite performance of the night.
"Oh, London, you are a fucking treat."
The last song of the main set was '929,' which is probably my favourite song off the album but it usually makes me cry because of the lyric, "And I remember this girl with pink hair in Detroit, what she told me: she said, 'Ashley, you gotta promise us that you won't die 'cause we need you,' and honestly, I think that she lied," but for the live performance she changed the lyrics to "honestly, I think she was right." I almost lost it right then because I was filled with so many emotions.
The butterfly outfit was beautiful.
She left the stage and for the encore, she returned to perform 'Ashley,' 'Experiment On Me,' and then she played 'Gasoline.' And as usual, she turned the mic to the crowd to scream the lyric, "do you call yourself a fucking hurricane like me." There's something so empowering about that moment. And then, at the end, she repeated it over and over again with the crowd shouting along. It was new and empowering and special. And on the screen behind her, the word Manic appeared. It was gorgeous.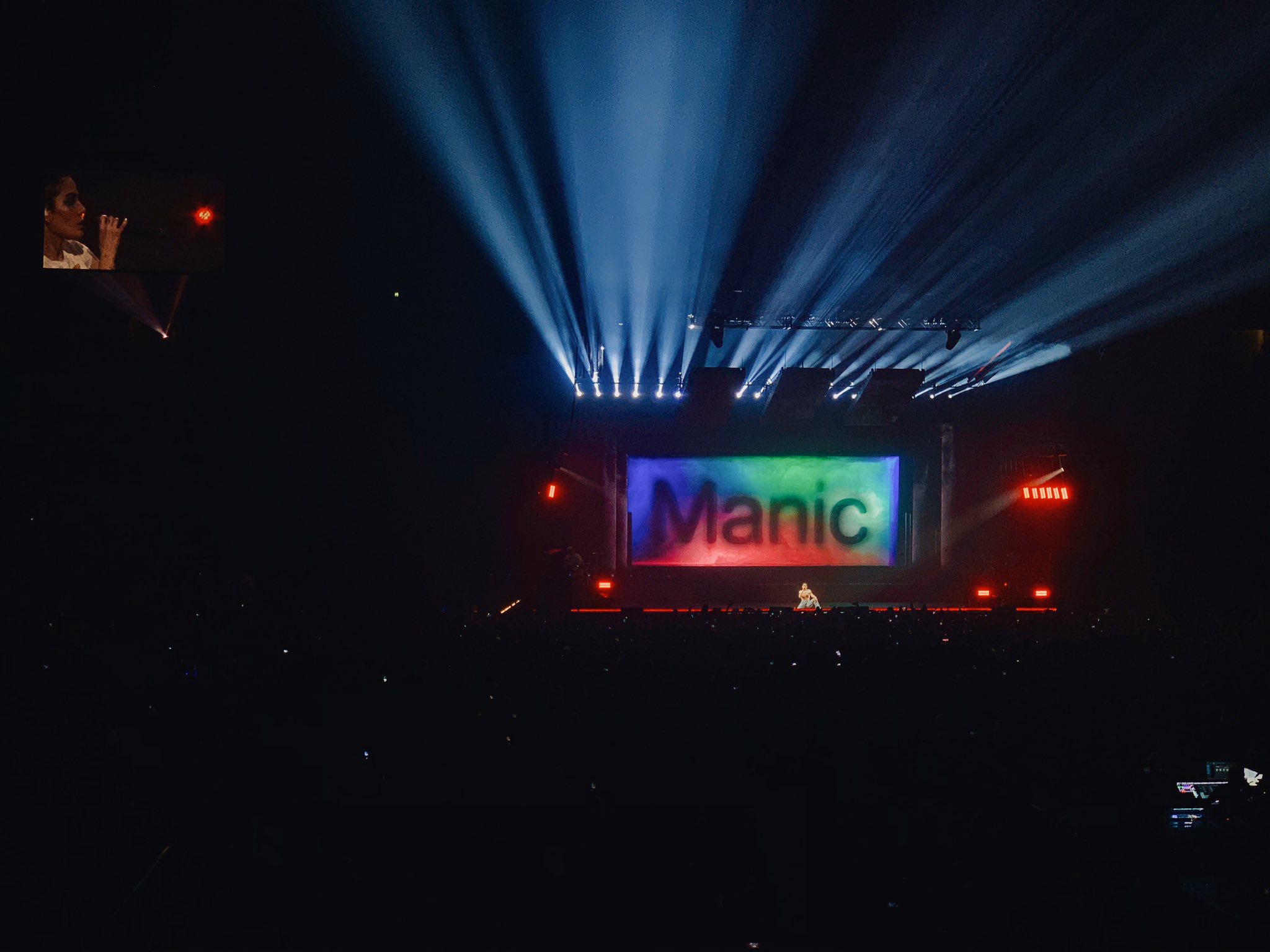 – From @u1123ae's Twitter.
"Yeah, this is the best show I've ever played. I wanna tell you something really special: not only is this the best show that I've ever played in my life but it's also completely sold out. Thank you for giving me, not only my dream show at The O2 but a sold out dream show at The O2. London, thank you for my dream." She talked about how her family were there and how much she loves us, but if there's anyone who loves us more than her, it's her family because we gave her a second chance at life. "

I promise you that I will not take this opportunity for granted because without you, this is a world without me." It was a very emotional speech and listening to it again (I videoed it on my phone) made me cry and cry and cry.

There's something so special about the way she talks to the crowd. She'll shout to pump up the crowd but then she'll just talk, about the songs and about herself, like she's talking only to you. And afterwards, it feels like the show is a secret between just you and her. I actually wanted to get out really quickly afterwards because I wanted to keep that secret safe, because I didn't want anyone to find out about it. It's  silly, I know.
She ended the show with 'Without Me' and it was amazing. Everyone was singing so loudly, so aware that it was the last song, like they were trying to enjoy every second left of the show. It was magical.
"Thank you so much! It's being the greatest night of my life! I love you from the bottom of my heart!"
This is what I was tweeting afterwards, my feelings just bursting out of me…
And this tweet made me laugh:
And the next morning, once I'd gone through my photos and my emotions had settled a little bit, I posted on Instagram…
After standing for the whole show, my legs were very sore. I had several muscle cramps in my calves (and this went on for a couple of days) but one particularly bad one that lasted for about five minutes. Eventually it passed, which was a huge relief, but I had serious pain in that leg for days, so bad that I limped when I walked.
Now, as I said earlier, if you read my last post you'll know that me and my Mum decided to go to Dublin, to see Halsey, as a very late 25th birthday celebration. So I went into uni on the morning of the Tuesday, went to my lecture, saw my friends briefly, and then headed for the airport.
We basically had to go straight to the arena, which is a beautiful space. The disabled seats are right at the back, which is fine because it's not a huge room, but we were on the side of the room so, again, the screens were blocked by the stage equipment, lighting rig, etc, which was frustrating. I'm focussing on how grateful I am to have gotten to see the show twice, but it does feel like you miss part of the show when you can't see the beautiful art that she's created to be a part of each song. Having said that, I was really grateful to be sitting down, which was such a relief after the O2 show and the pain in my leg.
The show was amazing, just as expected. Halsey is always amazing. But even in a highly choreographed show, she still manages to make each show feel different and special.
During 'Castle,' she did what she normally does: "Stop the track. What the fuck was that? I said, what the fuck was that? Okay. Okay, okay, okay. Look. I know you guys better than that… Are you guys gonna let London do a better job than you? I mean, fuck, even Norway did a better job… Let's try that one more time." The screaming just got louder and louder as she talked.
And then, a few songs later, she said: "I'm starting to rethink all that stuff I said back there. You guys are actually shaping up to be a pretty fucking amazing crowd. And plus, I gotta be honest with you: there's a whole fucking lot of you squeezed in down there on that floor."
At one point, everyone started chanting 'Halsey! Halsey! Halsey!' and she got all cute and embarrassed: "You guys are just too fucking sweet." She said she never knows what to say or do when a crowd starts doing that.
Again, she explained why she's not touring for a while, saying something very similar to what she said in London.
The arena lighting up for 'Finally // beautiful stranger' was beautiful: "You see, this is a love song and when you sing a love song in a big arena like this one, everyone has to take out their lights. Don't you know the rules?"
This is what the colours behind her looked like during 'Finally // beautiful stranger.' 
After 'Finally // beautiful stranger': "Everybody thinks that a love song is the easiest one to write, right? Because… okay, like, you write a love song and it's like, oh, it's so trite and cliché and easy to write a love song. Anyone can write a bullshit love song. Fuck all the love songs on the radio… That's bullshit. A love song is really fucking hard to write and I'll tell you why. Writing a love song means you are opening yourself up to the world and telling them, 'I was foolish and stupid enough to open up my heart and let someone in.' It says to the world, 'I might look like I have my shit together' – personally I don't, but maybe other artists do – 'I might look like I have my shit together but I am a big dumbass who opened up my heart for somebody to walk right into.' But that's okay because you're supposed to do that. You're supposed to open up your heart and let people walk right inside and just trash the living room that is your heart, just fuck up the carpet, flip over the couch, break a lamp… because that's how you learn. That's how you get better at loving the next person, but I'll tell you what… writing that song, I would rather stand on this stage butt-naked in front of you guys than write another love song like that. But that's not a problem because if I ever do, I promise I'm going to keep my clothes on, I think. And I hope that I do because, you know, you guys have really spoiled me in a way. You have shown me a love that is so unconditional, I don't think I could ever recreate it with another person. You've spoiled me."
She actually stood somewhere else for 'Is There Somewhere,' after my internal commentary on how moving around would give different fans the opportunity to hold her hand and have that moment. God, I wished I was down there, wished I was able to be down there. Oh, and the guitar solo in the background was to die for; it was gorgeous.
She's so free with her body but so confident in it, in the way it moves. It's like she has complete faith that every muscle will do exactly what she expects and intends it to do. I wish I could be like that; I wish I could feel like that.
Introducing 'Clementine': "I wrote a lot of those songs when I was nineteen years old and I'm twenty five now. And some of the songs on Badlands… But most of them, I wrote before I had ever done a headline tour so I had no idea what it was like to have an audience of my own. So I wrote Badlands so that you could listen to it in your bedroom, not so that you could listen to it at a concert. Then I started to play shows, and I started touring, and I started getting in the studio and thinking, 'what do I want to sing with them?'"
If you haven't heard it, there are parts on the recording of 'Clementine' where you can hear a double track of her shouting the lyrics behind her singing the lyrics and the crowd shouted those shouted parts so loudly, louder than London. It was strangely powerful and I wish I'd gotten a video of it.
For 'Graveyard,' she asked – if it felt safe – for people in the standing area to get on each other's shoulders because it's an outside in the summer song and so many people did it, so many more than at The O2. And everyone was singing so, so loudly.
In '929,' she was singing the lyric, "And I remember this girl with purple hair down in Dublin, she told me… She said, 'Ashley, you gotta promise us that you won't die because we need you and honestly, I think…" and then she stopped because the crowd was singing so loudly: "she was right." I almost dropped my phone. I almost cried.
The crowd screamed, "do you call yourself a fucking hurricane like me," maybe even louder than in London, although that might be because the room is smaller with a lower ceiling. But it was epic and she did the same thing at the end, repeating it over and over with the crowd shouting along. It was awesome.
Introducing 'Without Me': "We're into encore time, motherfucker." That made me laugh. "I'll keep it quick. I know I haven't shut the fuck up this whole show but I've got six years worth of talking I wanna do. I've got six years worth of stuff that I wanted to say to you guys that I had to pack into one show so… I'm gonna use my time wisely and I'm gonna tell you that a lot of you guys get to read all of the super bad shit about me because that's what people like to write about. They like to write about all the dark moments in my life. They like writing about the shit that I've been through or the dark times that I've faced. For whatever reason, that's what people like to write about and it used to really bother me, but now I'm kind of okay with it because… because all of those things did happen to me and some things even happened that, you know, the media, the press, whoever, they don't know about. And some of this stuff has happened in the last couple of years while I've been Halsey. You know, I've kept it to myself at certain times but every time shit gets terrible, I always have you." There was major cheering. "And every single artist who's ever played a concert in the history of time gets on stage and says to the crowd, 'I would be nothing without you,' right? And sometimes I really believe that but, you know what? Sometimes I fucking don't. And I think to myself, 'You would probably be okay actually. Maybe you wouldn't be as happy or as, you know, successful but you'd get a job, get married, do whatever, but there are so many times where I have been so, so unsure. So unsure. And you guys have made me absolutely positive. So basically this is a really long-winded way of saying thank you because without you, this would be a world without me." That last sentence still got to me, even though I'd already heard it in London.
This is what the background looked like during part of the song, although it started off more like a ribbon:
It was incredible, another incredible show, and I'm so grateful to have been there. It was an amazing birthday present. Getting back to the hotel was a struggle and my emotions felt very mixed up and messy. For over an hour, I just didn't feel anything. I think I was just struggling with it all being over, with the idea of not having them to look forward to. Eventually that settled and real feelings started to bloom again but they were still confusing, like a lump of different coloured pieces of play dough stuck together. Impossible to separate and really identify.
The next day, when I got home and had a bit more control over my emotions, I posted to Instagram…
And now I'm home and the European Tour is over. The adrenaline crash was pretty brutal, the physical pain from London was bad, and I was exhausted after a wild three (actually four) days but it was so worth it. Halsey – Ashley – and her music mean so much to me and I'm so, so grateful for this experience.